Preparing for the worst - is your business ready?
Guidance and advice for removal and storage operators on how to be ready when disaster strikes
Introduction
Even the most well prepared and well run business can be struck by disaster. In the last two years alone we have seen the total loss of two major UK self storage facilities and numerous warehouse fires. Events such as these are clearly devastating for the business affected but also for the customers involved, and emotions can understandably run high. If not managed quickly, professionally and sympathetically these emotions can overspill into unwanted (and often undeserving) media and/or legal attention, which can lead to long-term damage to your reputation and customer loyalty. This could mean your business may struggle to recover long after customer claims have been paid and the premises has been rebuilt.
Fortunately there is plenty you can do in advance to prepare and protect your business, and in turn protect your customers. This guidance note takes you through some of the most important aspects to get right and will cover the following subjects:
Contracting with your customers;
Put in place (and regularly test) a Business Continuity Plan (BCP);
Understanding your insurance programme
Fire risk assessments
A summary of Do's and Don'ts
Contracting with your customers
In the event of a claim your contract paperwork with your customer will be, without any doubt, the most important documentation you can produce to ensure the claim goes smoothly and to everyone's satisfaction.
Facility owners should understand the importance of contracting with customers on the correct basis and take all possible steps to ensure that customers understand the agreement they are signing. This is particularly true when it comes to the subject of how customers' goods will be protected beyond any limited liability accepted under your standard terms and conditions.
We cannot underestimate the importance of ensuring your customers know before a loss occurs exactly what liability you have towards them or what insurance cover they can benefit from. Clearly documenting this in writing to the customer, at the outset of their contract with you, should avoid any confusion or misunderstandings when a claim occurs.
Use the following check-list to revisit your procedures:
Ensure your customers have signed their acceptance to your Terms and Conditions
All customers must sign to say they have read and understood your terms and conditions before you handle their goods. This is fundamental to ensuring you can rely on your terms and conditions when you need to (i.e. in the event of a claim). Ideally taking the time to walk your customers through the paperwork as they sign it will give you the opportunity to reinforce key parts of the agreement and overcome any questions or concerns.
Ensure your customers understand how you are able to protect their goods

Do you sell insurance (open cover)?
Do you offer to include your customers' goods under your own insurance policy?
Do you operate on a liability basis and agree to be liable to the full value of your customers' goods, if the customer pays you an additional fee?
Perhaps you don't offer any of these options and expect all customers to make their own insurance arrangements. Whichever model your business works to you need to make sure your customer understands it and that your contract paperwork makes it very clear whether or not the customer has taken up the option to protect their goods.
Ensure customers understand your liability is limited if they do not take up your insurance/liability solution (whatever that solution may be)
You must ensure customers are aware if they do not pay for your insurance solution your liability is limited to £40 or £50 an item (or otherwise as per your standard terms and conditions). Also make sure your terms and conditions clearly define what an 'item' means.
Ensure all customers have provided a realistic declared value of their goods 
A declared value is vital if you have sold the customer an insurance solution (or liability protection) for their goods. The customer's declared value should be based on how the insurance you provide them with would settle a claim. This will either be on an indemnity basis (second-hand market value) or a reinstatement basis (new for old).
Even if you haven't offered the customer an insurance solution, you should still ask the customer to provide an estimate of the value of their goods if those goods are coming into store. This will ensure you are able to assess and adequately insure your maximum exposure of both Insured and Uninsured goods in your warehouse. This, in turn, will help you to avoid being under-insured in the event of a loss.
On the subject of under-insurance you should avoid giving customers set limits or minimum limits of cover (i.e. £2,000 of insurance cover for free, or £5,000 insurance cover per container). You may think you are helping the customer by ensuring they at least have some insurance cover in place, but human nature is to take what is 'free' and nothing more. When a claim occurs there is a very strong chance the goods will be under-valued and insurers will apply the under-insurance provision in your/their policy. Also known as the 'condition of average' this allows the insurer to reduce the amount of any claim by the proportion to which the actual value of the goods bears to the insured value. The following example helps to illustrate this important point:
Example of the under-insurance condition (condition of average) in practice
Actual value of customer's goods is £20,000
Value declared by the customer for insurance purposes was £10,000
The customer has under-insured their goods by 50%
A claim presented at £5,000 would be offered settlement at £2,500 (50%)
As well as collecting a value at the outset of the contract you should ensure customers are told that their value must be kept up to date whenever they ask you to move goods into or out of your warehouse.
Put in place a Business Continuity Plan (BCP) and test it regularly
Business continuity planning is the process of identifying the parts of your company that are most vulnerable, in order to create a plan to recover them if a business interruption occurs.
Why is business continuity planning important?
One out of every four businesses impacted by a disaster never re-opens its doors and, in the past year, nearly one in five companies has reported experiencing a business interruption.
A business interruption can be as benign as a short power cut or as severe as a major flood or fire. Companies that are prepared to face all types of incidents—small or large—are more likely to stay in business and be able to support its customers.
Businesses with strong BCPs are more resilient in the face of emergencies and disasters. This is because they have considered and documented how they will respond to an emergency in advance and have regularly tested their plan to ensure that it will work.
Where should you start?
The steps involved in creating, implementing and maintaining a business continuity plan are:
For more information, please contact:
Neil Matthews, ACII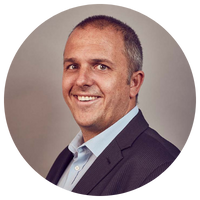 Relationship Manager
Tel: 01473 346037
Email Neil Matthews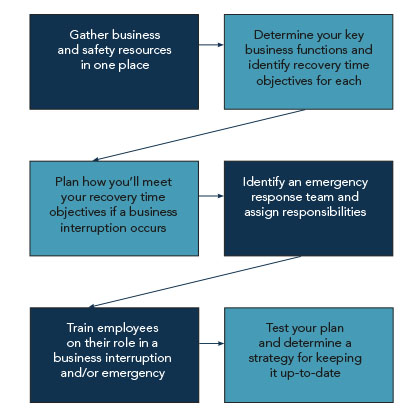 As Chartered Insurance Brokers and risk managers, we can provide you with a full step-by-step toolkit to take you through the process of completing and testing your BCP. Please get in touch with your usual Pound Gates' contact point for more information.  
Communication, communication, communication
We cannot stress enough how important communication is to your BCP. It is no good having a great plan if you cannot get in touch with your customers, suppliers, staff and other third parties when disaster strikes. So you need to think carefully about how you will communicate with your stakeholders. In doing so you will need to answer questions like:
How good are you at keeping your various databases (customers, suppliers, staff etc.) up to date? Can you improve in this area?
Can you access your databases remotely? You need to be prepared for the situation where you cannot gain access to the premises (i.e. due to a fire).
Ensure you are able to access records remotely
Earlier we touched on the need to be able to access contact databases remotely in the event of a disaster. This principle also applies to your customer records and contractual paperwork. If there is a total loss of the building it goes without saying that any original records stored in the building will have been destroyed. If you cannot access copies of these documents remotely this will seriously hamper the claims process as your insurer will undoubtedly need copies of customer licence agreements, insurance inventories and declarations of value pertaining to your customers to be able to handle each claim.
It goes without saying that this would create a dire situation for your business as customers desperate for answers and resolutions are told their claim cannot be processed quickly or perhaps at all. As touched on at the start of this document this could quickly escalate into a media circus and/or legal challenge which could have long-lasting implications for the business. 
Talk to your insurance broker
As part of completing your BCP you may have a particular expectation for how you would want your customer claims to be managed in the event of a major loss. Don't forget to consult with your insurance broker to ensure you understand how your insurers would handle a major claim to ensure that they can meet with your expectations.
Consider crisis management / public relations support
Business Continuity Planning is all about getting the business back to normal as quickly as possible following an interruption. As mentioned at the outset of this guidance note a major disaster is likely to attract media attention. Even a well-run business with a slick claims management process can find itself on the receiving end. Specialist companies exist that can support you with managing communications in a crisis. This type of service can sometimes be provided as part of a professional indemnity, directors & officers or commercial legal expenses policy so you may find you already have access to such expertise. It is definitely worth checking your insurance programme to be sure, which leads on to our next point. 
Take time to understand your insurance programme
It sounds like an obvious things to say but all too often people don't take the time to fully understand the insurance they have bought. If you don't understand your insurance cover then how can you know how it will respond in the event of a claim?
It isn't just about your customers' goods cover or your property and liability insurance. You should also make sure you have directors & officers liability (D&O) insurance in place. Directors & officers' liability insurance will protect you, your business partners and senior managers should any or all of you be sued personally for your perceived failings or negligence. Unfortunately we find this to be an increasingly common scenario as customers (or other stakeholders) look to hold somebody accountable.
Fire Risk Assessments
One of the main discussions points surrounding the aftermath of any fire usually centres on the existence, quality and consistency of fire inspections and fire risk assessments.
It is vital that your business is not found lacking in this area and that your fire risk assessments are fully up to date and documented and that any recommended actions have been followed up in a timely manner. You should also ensure you have complete and up to date records of your (or third party) testing of any fire alarms, intruder alarms and any other fire protection or security measures in place.  Ensure you have fully complied with legislation and you are able to provide certificates confirming you have assessed the fire risk and complied with Health and Safety.
A summary of the Do's and Don'ts
Do
Take the time to explain to your customers the key aspects of your terms and conditions (how the removals process works, how your liability is limited, what the customer is responsible for).
Clearly explain the options you offer to protect customers' goods and what you will need from the customer to put this in place. Clearly document the customer's decision and ensure this is shared with the customer as part of the contractual paperwork.
Explain to customers that they must complete the paperwork prior to you handling their goods.
Create, test and maintain a Business Continuity Plan.
Check your insurance programme. Know what you are insured for.
Review your fire risk assessments and related material to ensure this is thorough and up to date.
 Don't
Confuse your customers by getting insurance terminology wrong. You can only sell insurance to your customers if you are operating on an open cover basis. Otherwise you will have simply agreed to include your customers' goods under your own insurance policy or are offering an extended liability solution. Neither of these latter options are selling insurance. Your customer does not have their own insurance policy and has no rights against your insurer in the event of a dispute.
If you are selling insurance through an open cover ensure you have complied with your insurer's requirements and are declaring the correct Insurance Premium Tax (IPT) to your broker/insurer.
Handle customers' goods unless you have received their signed paperwork agreeing to your terms and conditions.
Give insurance away for free with minimal limits (i.e. up to £2,000). All customers will take the minimum 'free' insurance which will result in their goods not being adequately insured. In the event of a claim your insurers will apply the 'average' condition which will proportionately reduce the customer's claim settlement.
Ignore the important advice contained within this guidance note.
More information
If you would like any more information on the subjects covered in this guidance note and you are a client of Pound Gates please get in touch with your normal Pound Gates' contact point who will be happy to help.
If you are not currently a Pound Gates' client but would like to talk about how we can help to protect your business please contact Neil Matthews on 01473 346046 or by email to neil.matthews@poundgates.com