Twice a year we invite local businesses to our Risky Business Breakfasts held at Ipswich Town Football Club
The Risky Business Breakfasts bring together business leaders from the Ipswich and surrounding areas, providing the ideal opportunity for networking, whilst hearing from interesting speakers on subjects related to risk.
Previous speakers have included:
Jon Neil, CEO of Suffolk Mind
Terence Mauri, a global expert helping leaders innovate, adapt and succeed in the age of disruption
Professor Graeme Leach, CEO of Macronomics
Joff Sharpe, a former SAS Captain
Simon Horton, lecturer, author and trainer at Negotiation Mastery
Caspar Berry, professional poker player
Lucy Adams, former HR Director of BBC, Eversheds and Serco
Liam Herbert, corporate reputation expert
Stephen Ridley, underwriter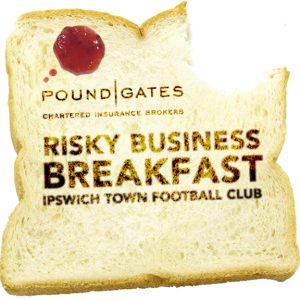 A few comments from our March 2019 event, featuring guest speaker Terence Mauri
"Great start to the day, with a thought provoking talk and presentation" – Ian Johnson, Handelsbanken
"Excellent again, great speaker" - Steve Flory, Hudson Group
"Great speaker, very relevant and thought provoking" - Mark Nightingale, Barclays
"Great event, great networking and a great speaker" - Charlotte Bate, MAD-HR
"Very well done and good action points" - Adrian French, LV Shipping
"I think it was a great event. The speakers are always inspiring and thought provoking" - Sheila Small, M Scott Properties
A few comments from our October 2018 event, featuring guest speaker Professor Graeme Leach
"Great discussion and debate" – Andrew Rowe, Concertus
"Excellent" – Howard White, Whitespace
"Very good, a quality speaker once again" – Kevin Ward, Conatus Financial Solutions
"Very useful and insightful" – Melissa Masters, Omega Ingredients
"Brilliant" – Rebecca Booth, Distaq QCS
"Very informative and well organised" – Steve Cole, Seven Asset Management
Places are always limited. If you are interested in attending any of our forthcoming breakfasts, please contact Christine Jones.