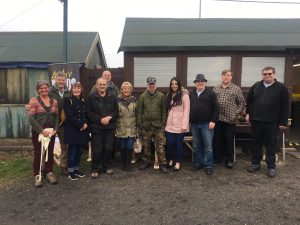 The Pound Gates team were among the invitees at a ceremony at ActivSheds, a project run by the ActivLives charity.
In 2018, Pound Gates donated £1,000 to the project in Maidenhall, Ipswich, which allows men who are lonely, isolated or looking to keep busy to get together and work on construction and DIY projects. They create and renovate benches, garden furniture and bird boxes to sell in St Elizabeth's Hospice. The group helps them to develop confidence, contribute to the community and build friendships that they otherwise wouldn't have.
The event marked the opening of a new and improved shed. Asha Babooram and Shirley Mills from Pound Gates attended the ceremony, where a representative from the ActivSheds committee  gave a speech, thanking Pound Gates and Sevatas for their donations.